A new team beginning & The year of the HHR!
2007 marked the first year that Amanda Hennessy and Robert Dubler joined teams to race in the One Lap of America. The week long event created a fierce battle on track and on the long hauls on the road.
The battle continues as Amanda Hennessy, Robert Dubler, and Marcus Pizzali race for the top three positions in class. All sporting identical 2008 Chevrolet HHR SS's, the three battle on the track to see who will come out on top. Watch to see how the event unfolds!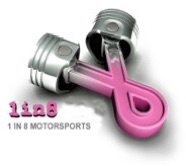 One Lap of America 2007 & 2008